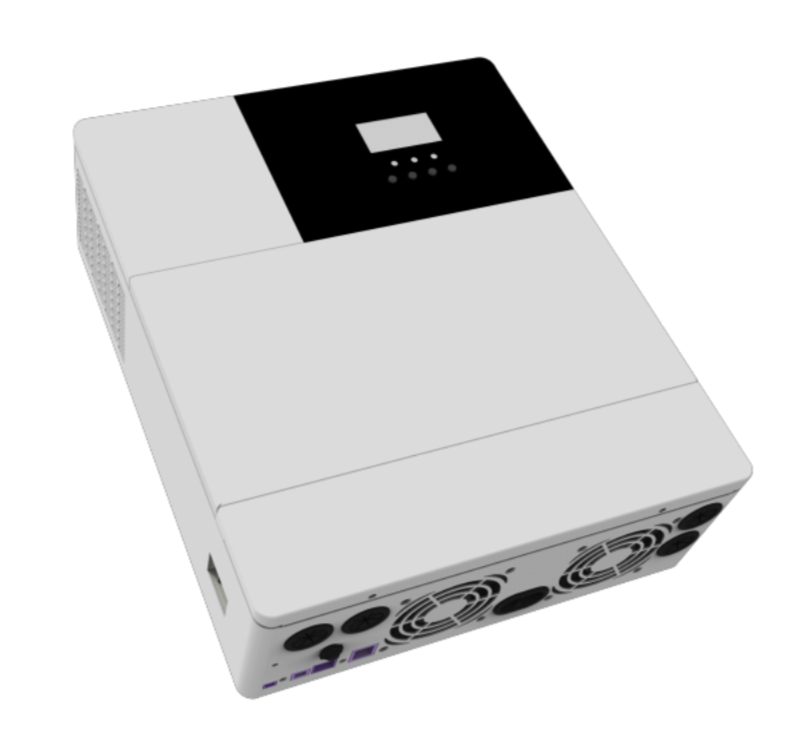 HF Series 5kVa 80A Hybrid Inverter
HF Series Hybrid solar Inverter 5kVa 80A
Manufactured by: Ysmart Solar 
Features:
1. Full digital Voltage and current double closed loop control, advanced SPWM technology, Pure sine wave output. 
2. Two output modes: Mains bypass and Inverter output; uninterrupted power supply
3. Available in 4 charge modes: SOLAR only, Mains priority, Solar priority and Mains& Solar hybrid Charging
4. Advanced MPPT Technology with an efficiency of 99.9%
5. Designed with LCD Screen and 3 LED indicators for dynamic display of system data and operating status. 
6. ON/OFF rocker switch for AC output control.
7. Power Saving mode available to reduce no-load loss.
8. Intelligent variable speed fan to efficiently dissipate heat and extend system life. 
9. Lithium battery activation design, compatible with Lead-Acid and Lithium battery. 
10. 360 degrees all-round protection with a number of protection functions.
11. Complete protection, including - short circuit protection, over voltage and under voltage protection, overload protection, reverse protection, etc. 
*Installation Instructions & Wiring Instructions are provided with Purchase. 
Warranty: 1 year Product Warranty. 
| | |
| --- | --- |
| Rated Input Voltage | 220/230Vac |
| Frequency | 50Hz/60Hz (Auto Detection) |
| Efficiency | >95% |
| Rated output power (VA) | 5000 |
| Rated output power (W) | 5000 |
| Peak Power | 10000VA |
| Rated battery input voltage | 48V |
| Mains Charging MAX charge current | 60A |
| PV Charging open circuit voltage | 145Vdc |
| PV Maximum output power | 4200w |
| PV Charging current range | 0-80A |
| Size (L*W*D) | 430mm*338mm*126mm |
| Weight (KG) | 10KG |
<p style="margin-left:0px;"><strong>Features:</strong></p><p style="margin-left:0px;">1. Full digital Voltage and current double closed loop control, advanced SPWM technology, Pure sine wave output.&nbsp;</p><p style="margin-left:0px;">2. Two output modes: Mains bypass and Inverter output; uninterrupted power supply</p><p style="margin-left:0px;">3. Available in 4 charge modes: SOLAR only, Mains priority, Solar priority and Mains&amp; Solar hybrid Charging</p><p style="margin-left:0px;">4. Advanced MPPT Technology with an efficiency of 99.9%</p><p style="margin-left:0px;">5. Designed with LCD Screen and 3 LED indicators for dynamic display of system data and operating status.&nbsp;</p><p style="margin-left:0px;">6. ON/OFF rocker switch for AC output control.</p><p style="margin-left:0px;">7. Power Saving mode available to reduce no-load loss.</p><p style="margin-left:0px;">8. Intelligent variable speed fan to efficiently dissipate heat and extend system life.&nbsp;</p><p style="margin-left:0px;">9. Lithium battery activation design, compatible with Lead-Acid and Lithium battery.&nbsp;</p><p style="margin-left:0px;">10. 360 degrees all-round protection with a number of protection functions.</p><p style="margin-left:0px;">11. Complete protection, including - short circuit protection, over voltage and under voltage protection, overload protection, reverse protection, etc.&nbsp;</p><p style="margin-left:0px;"><strong>*Installation Instructions &amp; Wiring Instructions are provided with Purchase.&nbsp;</strong></p><p style="margin-left:0px;">Warranty: 1 year Product Warranty.&nbsp;</p><figure class="table" style="width:545.6px;"><table style="border:1px dashed rgb(204, 204, 204);"><tbody><tr><td style="border:1px dashed rgb(204, 204, 204);width:241.725px;">Rated Input Voltage</td><td style="border:1px dashed rgb(204, 204, 204);width:289.075px;">220/230Vac</td></tr><tr><td style="border:1px dashed rgb(204, 204, 204);width:241.725px;">Frequency</td><td style="border:1px dashed rgb(204, 204, 204);width:289.075px;">50Hz/60Hz (Auto Detection)</td></tr><tr><td style="border:1px dashed rgb(204, 204, 204);width:241.725px;">Efficiency</td><td style="border:1px dashed rgb(204, 204, 204);width:289.075px;">&gt;95%</td></tr><tr><td style="border:1px dashed rgb(204, 204, 204);width:241.725px;">Rated output power (VA)</td><td style="border:1px dashed rgb(204, 204, 204);width:289.075px;">5000</td></tr><tr><td style="border:1px dashed rgb(204, 204, 204);width:241.725px;">Rated output power (W)</td><td style="border:1px dashed rgb(204, 204, 204);width:289.075px;">5000</td></tr><tr><td style="border:1px dashed rgb(204, 204, 204);width:241.725px;">Peak Power</td><td style="border:1px dashed rgb(204, 204, 204);width:289.075px;">10000VA</td></tr><tr><td style="border:1px dashed rgb(204, 204, 204);width:241.725px;">Rated battery input voltage</td><td style="border:1px dashed rgb(204, 204, 204);width:289.075px;">48V</td></tr><tr><td style="border:1px dashed rgb(204, 204, 204);width:241.725px;">Mains Charging MAX charge current</td><td style="border:1px dashed rgb(204, 204, 204);width:289.075px;">60A</td></tr><tr><td style="border:1px dashed rgb(204, 204, 204);width:241.725px;">PV Charging open circuit voltage</td><td style="border:1px dashed rgb(204, 204, 204);width:289.075px;">145Vdc</td></tr><tr><td style="border:1px dashed rgb(204, 204, 204);width:241.725px;">PV Maximum output power</td><td style="border:1px dashed rgb(204, 204, 204);width:289.075px;">4200w</td></tr><tr><td style="border:1px dashed rgb(204, 204, 204);width:241.725px;">PV Charging current range</td><td style="border:1px dashed rgb(204, 204, 204);width:289.075px;">0-80A</td></tr><tr><td style="border:1px dashed rgb(204, 204, 204);width:241.725px;">Size (L*W*D)</td><td style="border:1px dashed rgb(204, 204, 204);width:289.075px;">430mm*338mm*126mm</td></tr><tr><td style="border:1px dashed rgb(204, 204, 204);width:241.725px;">Weight (KG)</td><td style="border:1px dashed rgb(204, 204, 204);width:289.075px;">10KG</td></tr></tbody></table></figure><p style="margin-left:0px;">&nbsp;</p>