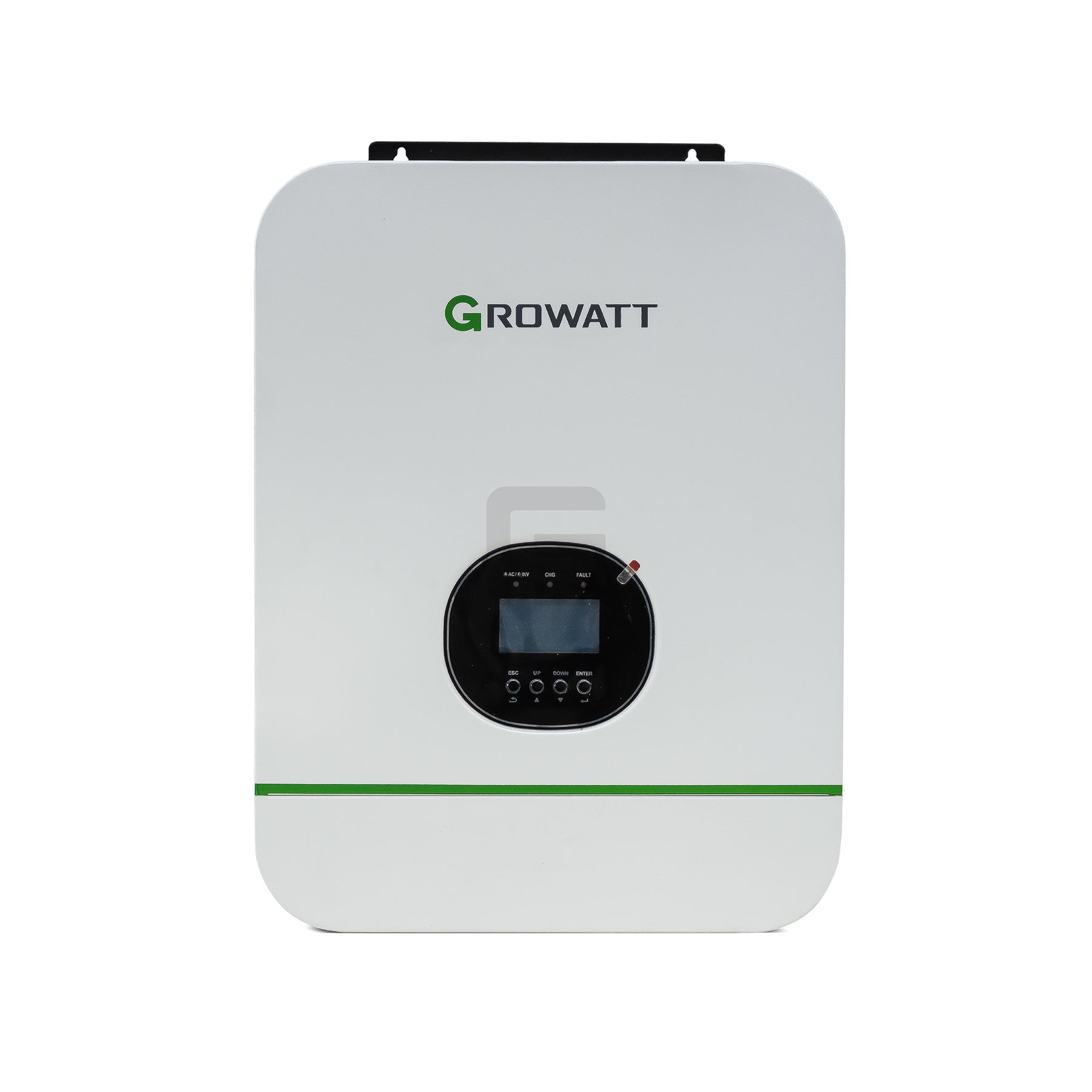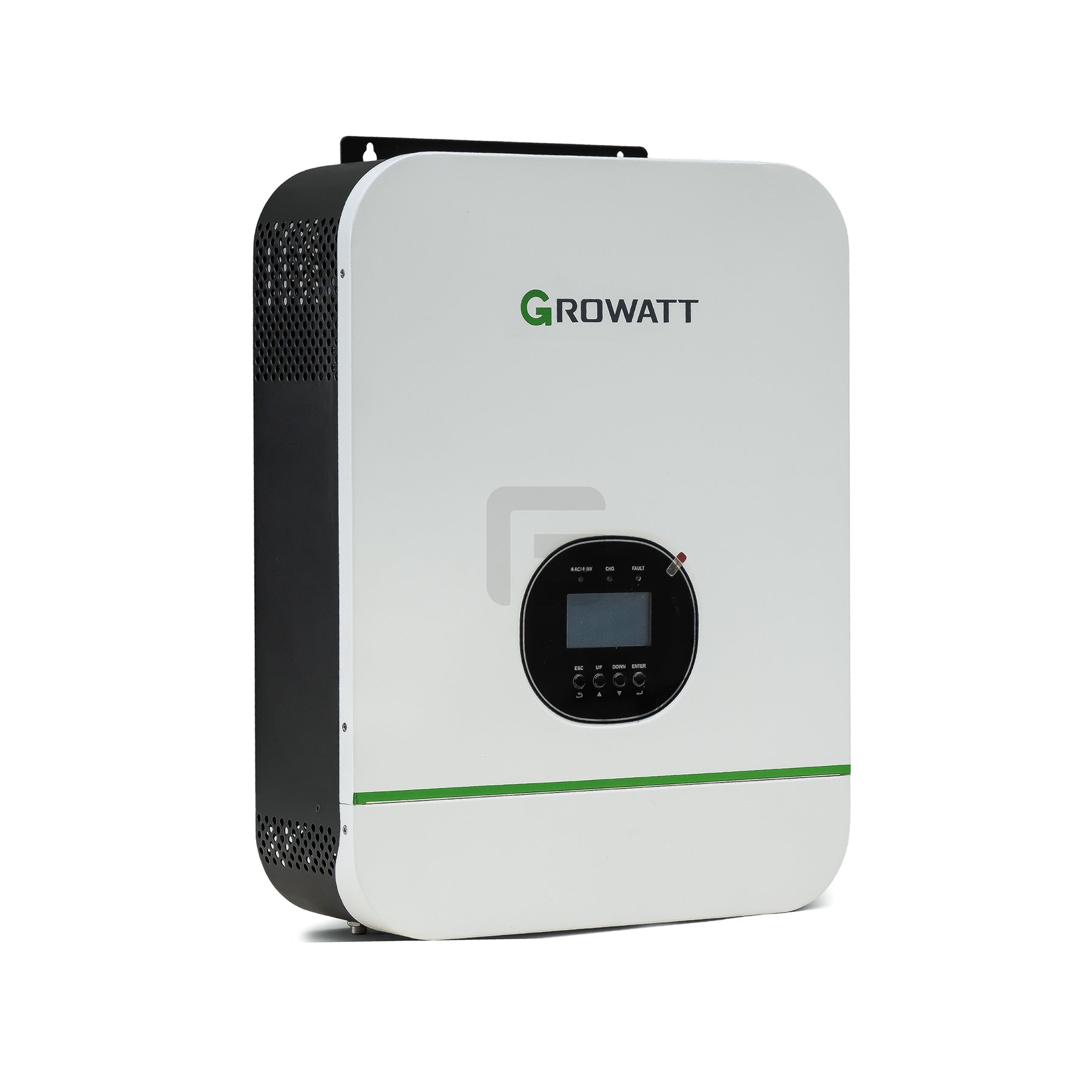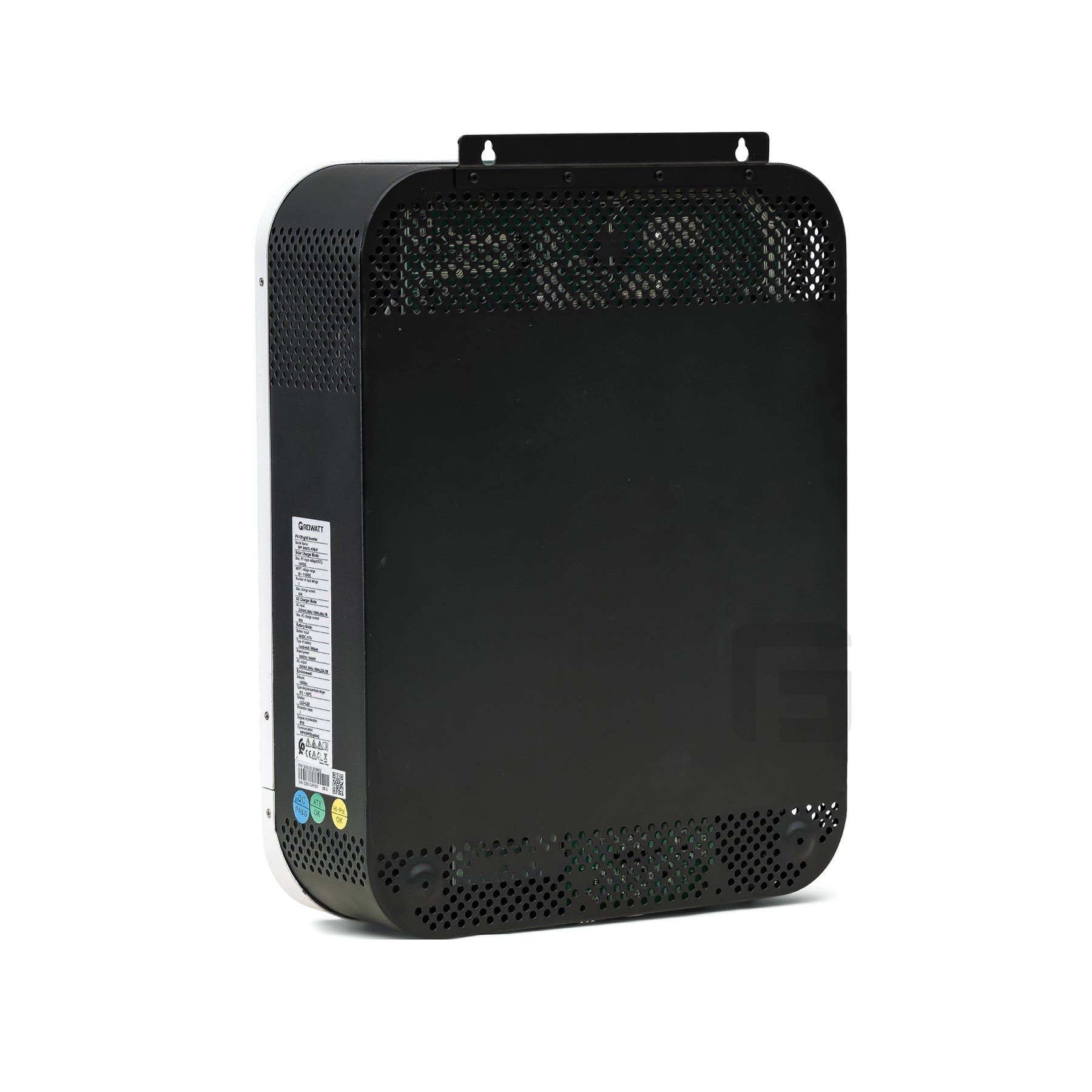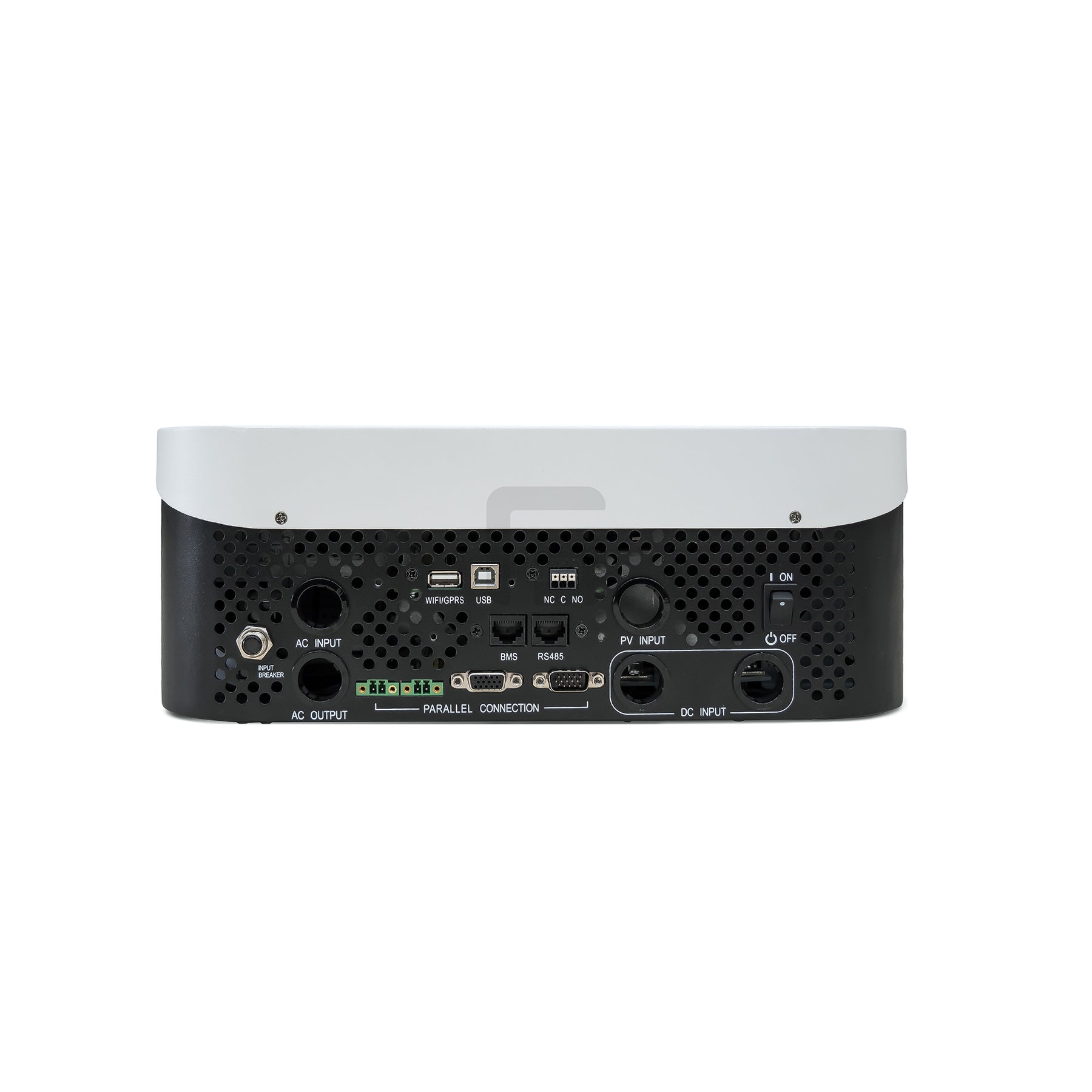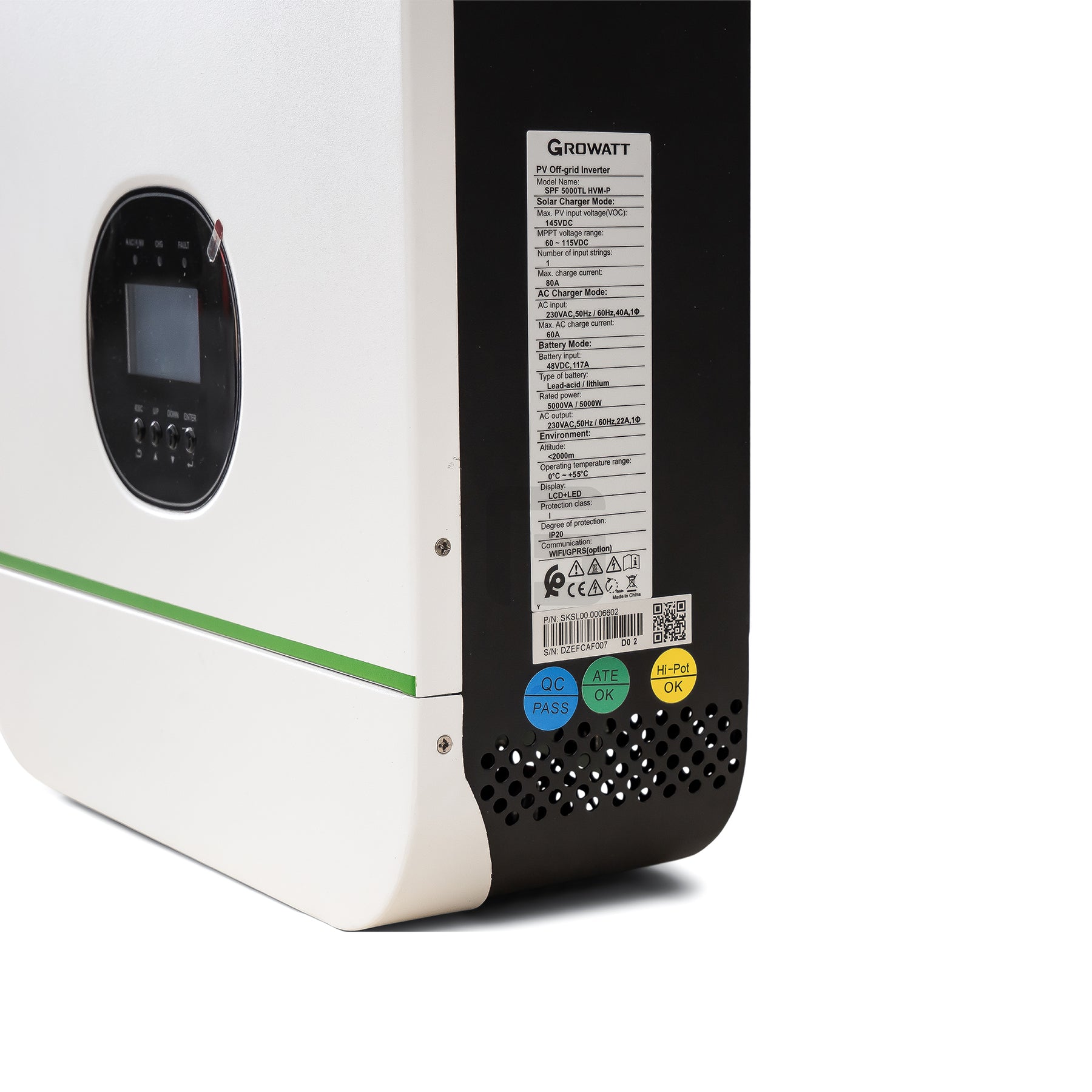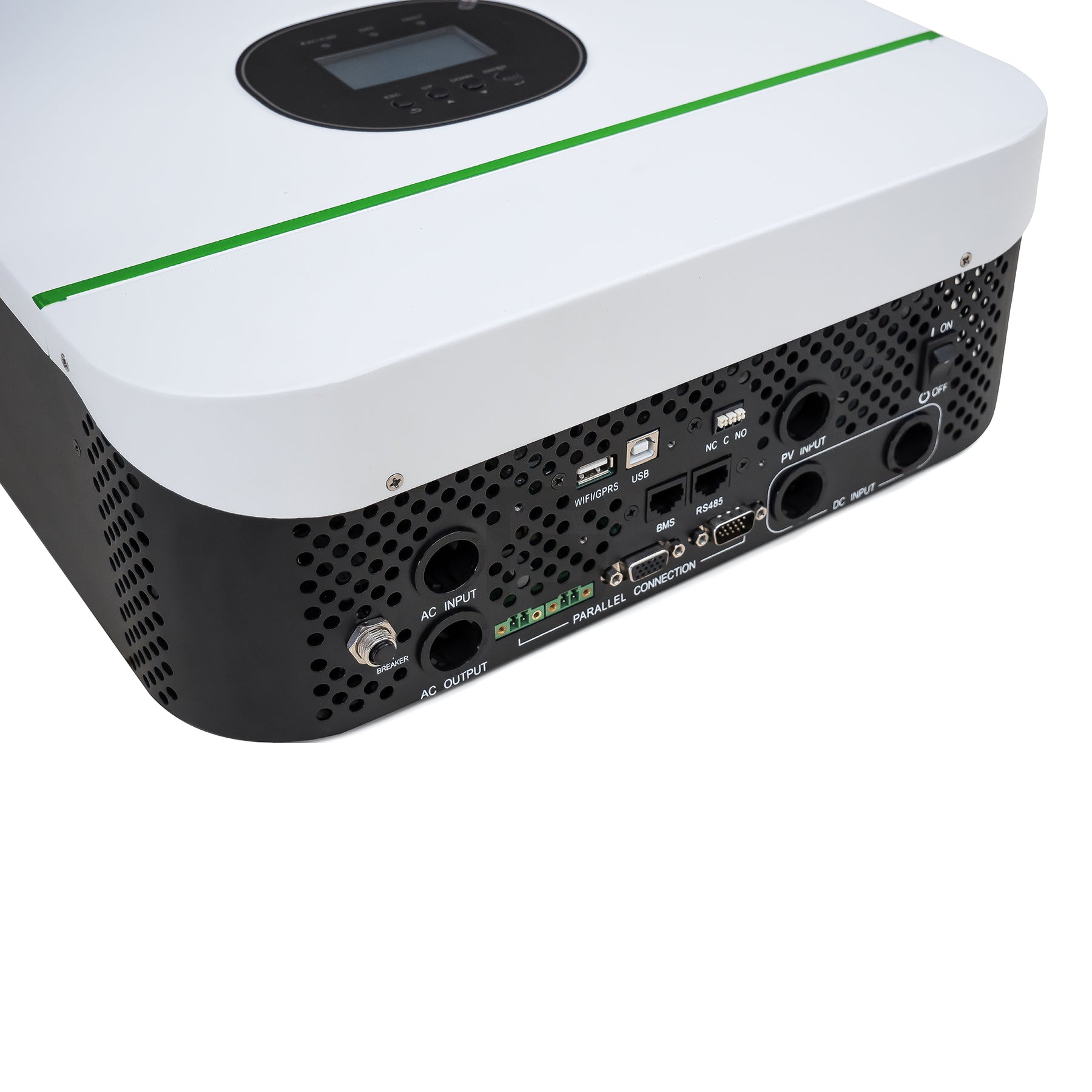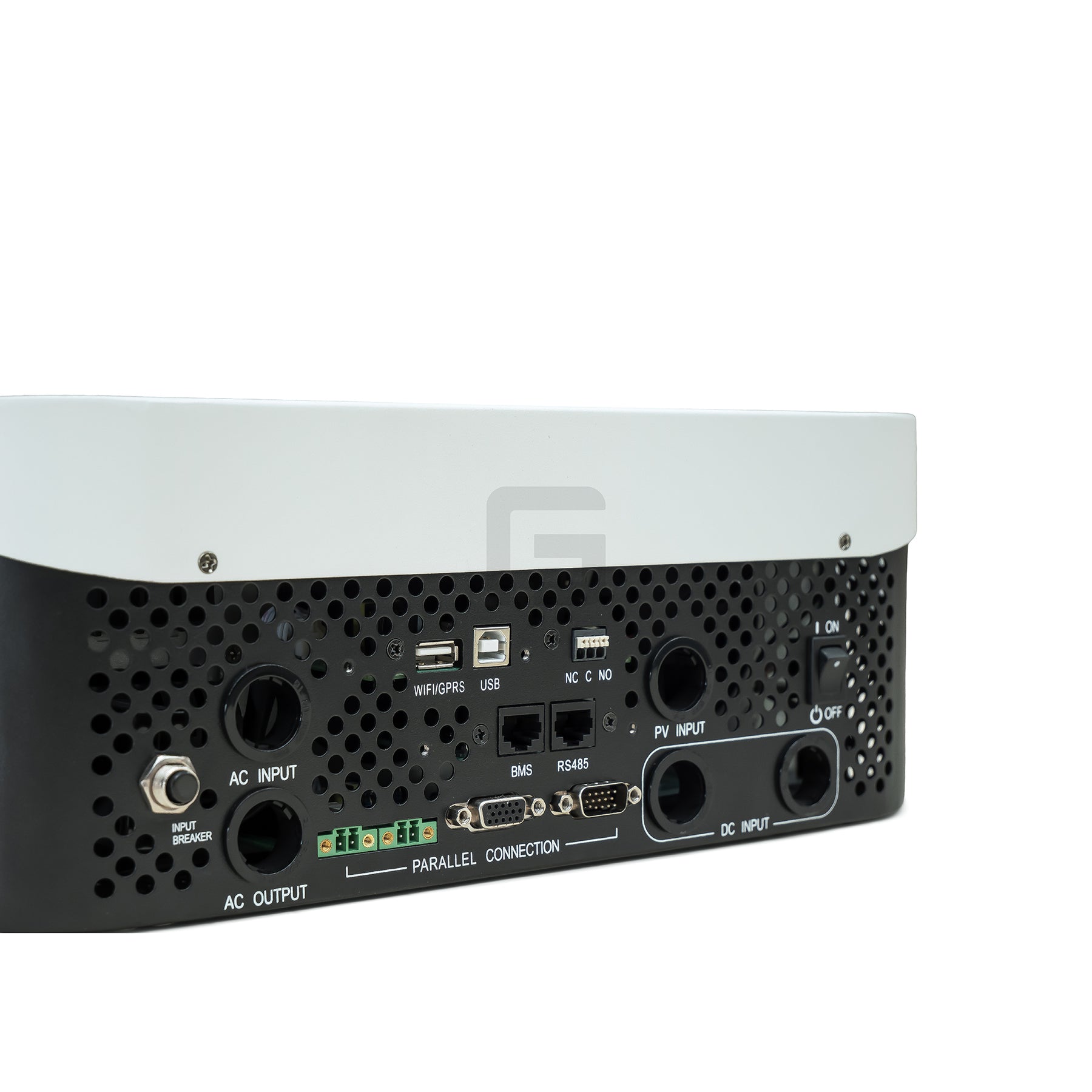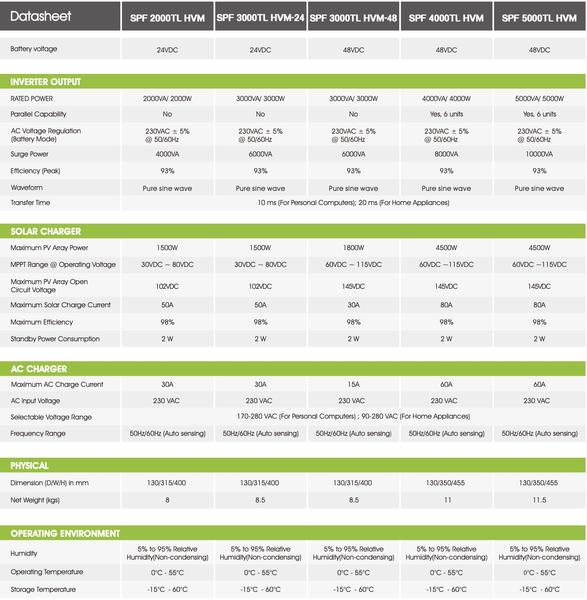 Growatt 5000TL 5kW (48V)
The Growatt SFP 5000TL (HVM) 48V hybrid inverter combines 5kW Pure sine wave inverter, a high efficiency MPPT charge controller, and an UPS function module in one machine. It is packed with unique features and it is one of the most advanced hybrid inverters on the market today.
*If you're looking to use 3rd party lithium batteries (not Growatt branded), please confirm with the battery supplier they are compatible with this hybrid inverter before purchase.
<ul><li><strong>Support 4 Charging Modes &amp; 3 Output Modes:&nbsp; </strong>Solar-first mode, Utility-first mode, Charging by Utility and solar, Only solar. Three output modes: Solar-first; Utility-first(Default); SBU Priority. Integrated Smart battery charger:&nbsp;compatible with the&nbsp;grid, mains and diesel generator.</li><li><strong>Parallel&nbsp;for scalability</strong>:&nbsp;Can operate a wider variety of larger electrical equipment and appliances. Max 6 units, supports three-phase equipment.&nbsp;</li><li><strong>Mobile Phone Remote Monitoring:&nbsp;</strong> The GPRS WiFi 1 module is a plug-and-play monitoring device. Using this device, users can monitor the status of their off-grid solar system via mobile phones or websites anytime and anywhere.&nbsp;</li><li><strong>Solar Inverter Built in 80A Controller Offers Multiple Protection:</strong>&nbsp;AC input over voltage protection/AC input low voltage protection/Over temperature protection/Over load protection/ Short circuit protection/Reverse protection/Deep discharge protection.&nbsp;</li></ul>
<ul><li>Battery Voltage 48VDC&nbsp;</li><li>Battery Type Lithium/Lead-Acid&nbsp;</li></ul><p><strong>INVERTER OUTPUT&nbsp;</strong></p><ul><li>Rated Power 5000VA/5000W&nbsp;</li><li>AC Voltage Regulation 230VAC + 5% @ 50/60Hz&nbsp;</li><li>Parallel Capability YES, 6 Units&nbsp;</li><li>Maximum Surge Power 10000VA&nbsp;</li><li>Efficiency (Peak) 93%&nbsp;</li><li>Waveform Pure Sine Wave&nbsp;</li><li>Transfer Time 10ms typical, 20ms Max&nbsp;</li></ul><p><strong>SOLAR CHARGER&nbsp;</strong></p><ul><li>Maximum PV Array Power 4500w&nbsp;</li><li>MPPT Range @ Operating Voltage 30VDC ~ 115VDC&nbsp;</li><li>Maximum PV array open circuit voltage 145VDC&nbsp;</li><li>Maximum Solar Charge Current 80A&nbsp;</li><li>Maximum Efficiency 98%&nbsp;</li></ul><p><strong>AC Charger&nbsp;</strong></p><ul><li>Charge Current 60A&nbsp;</li><li>AC Input Voltage 230VAC&nbsp;</li><li>Selectable Voltage Range 90 - 280VAC (For Home Appliances)&nbsp;</li><li>Frequency Range 50/60Hz (Auto Sensing)&nbsp;</li></ul><p><strong>Physical&nbsp;</strong></p><ul><li>Protection Degree <a href="https://www.consumer.org.nz/articles/ip-ratings-and-water-resistance" target="_blank">IP20</a>&nbsp;</li><li>Dimension (W/H/D) 350/455/130mm&nbsp;</li><li>Net Weight 11.5kg&nbsp;</li></ul><p><strong>Operating Environment&nbsp;</strong></p><ul><li>Humidity 5% to 95% Relative Humidity (Non-Condensing)&nbsp;</li><li>Altitude &lt;2000m&nbsp;</li><li>Operating Temperature 0 °C - 55 °C&nbsp;</li><li>Storage Temperature -15 °C - 60°C</li></ul><p><strong>Warranty</strong></p><ul><li>2 Years&nbsp;</li></ul>