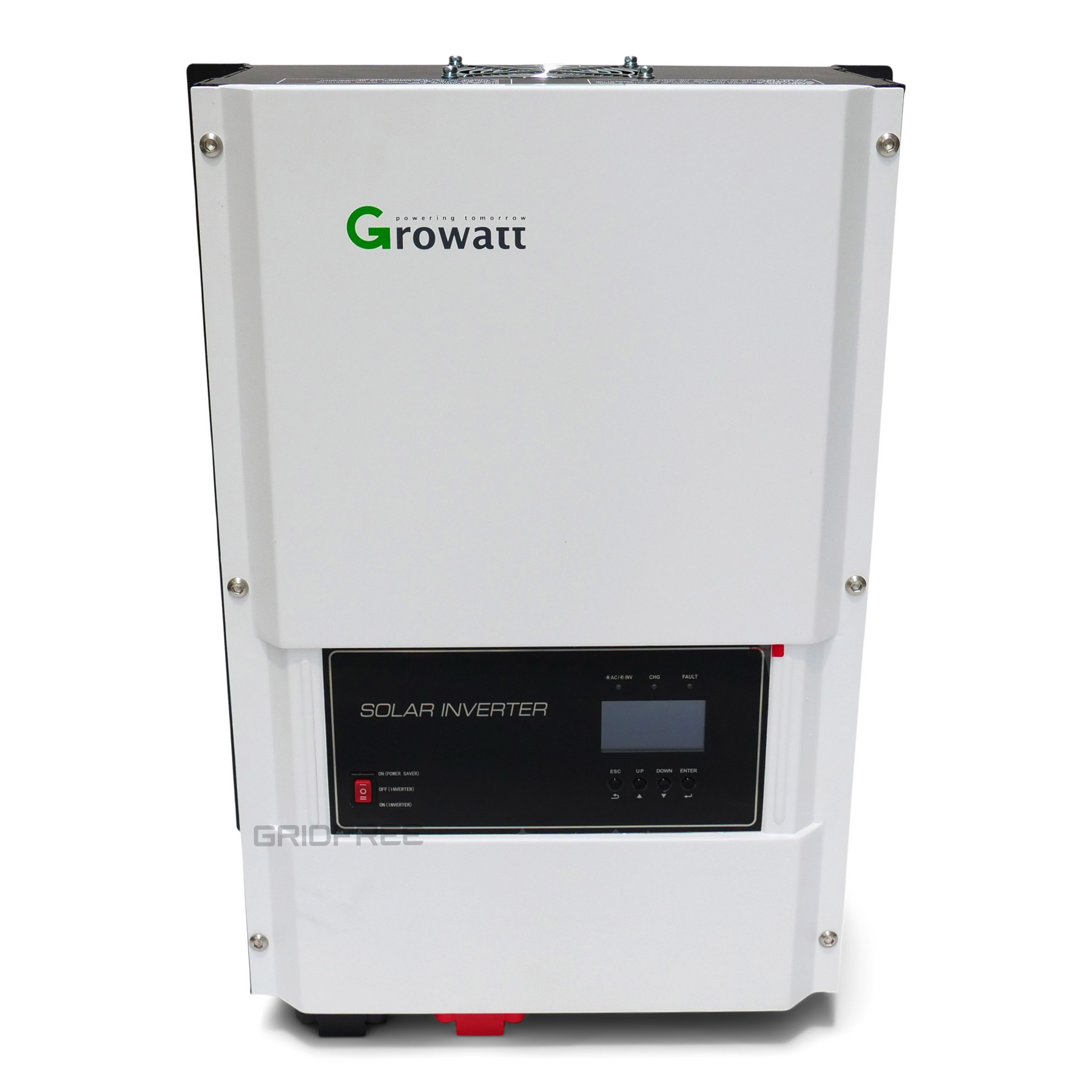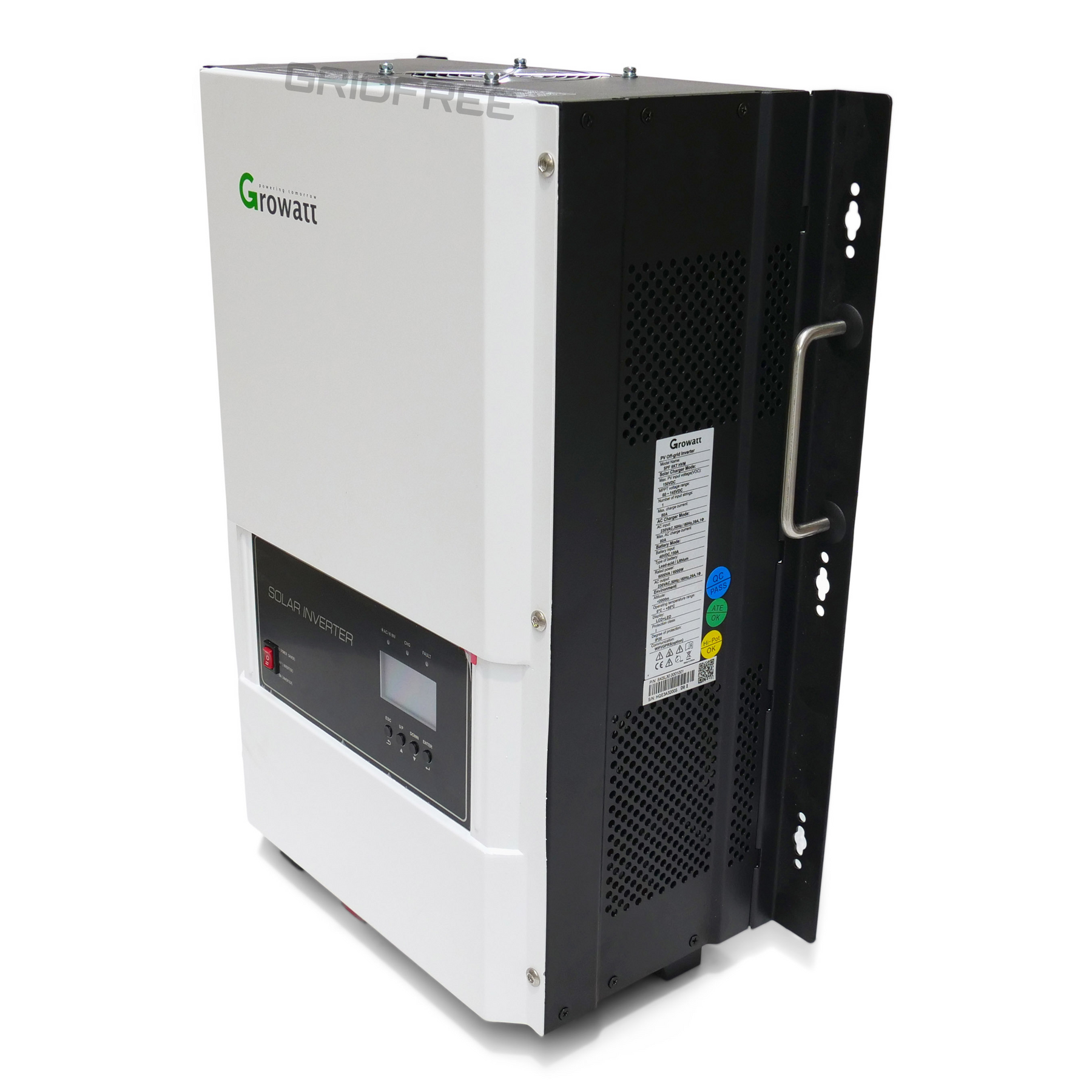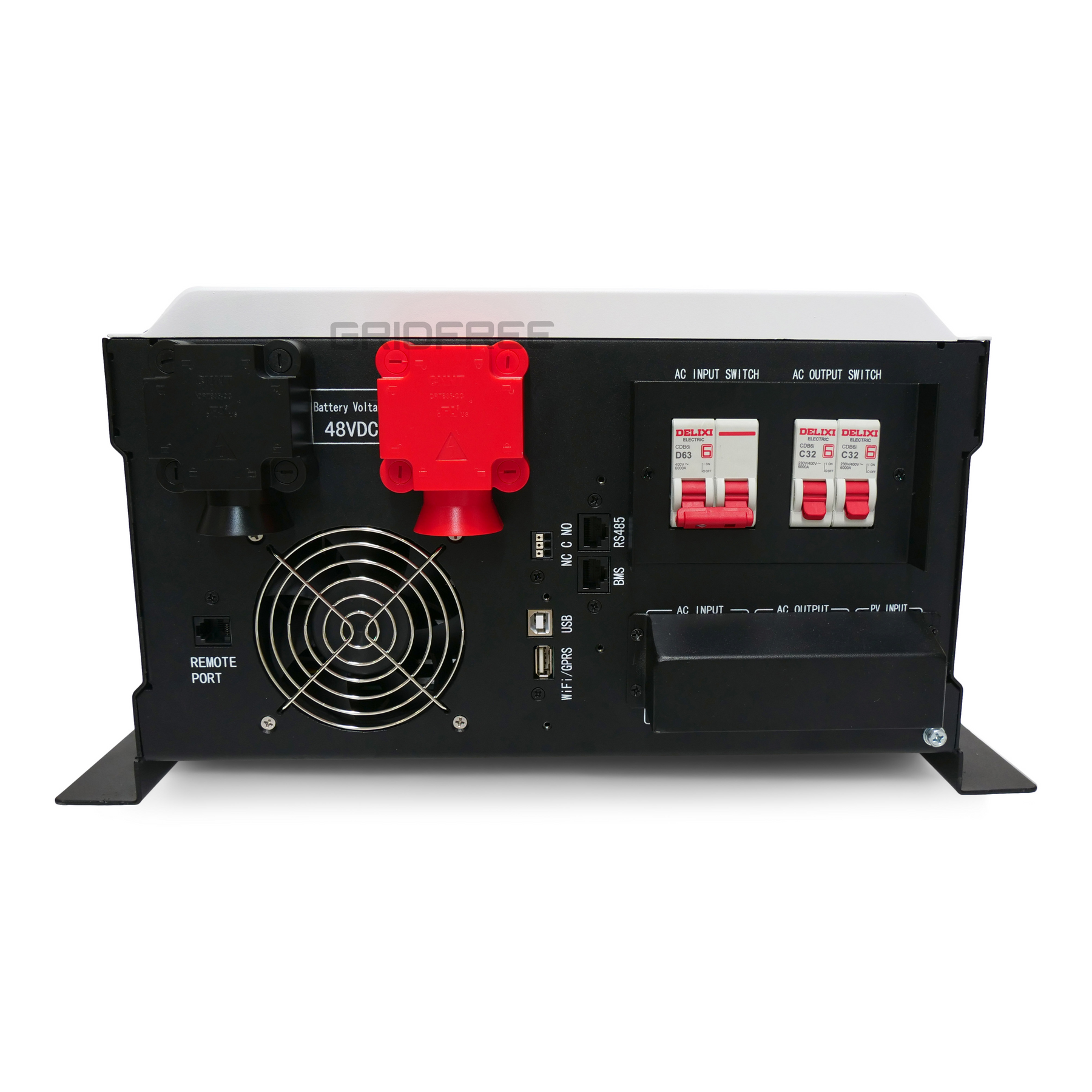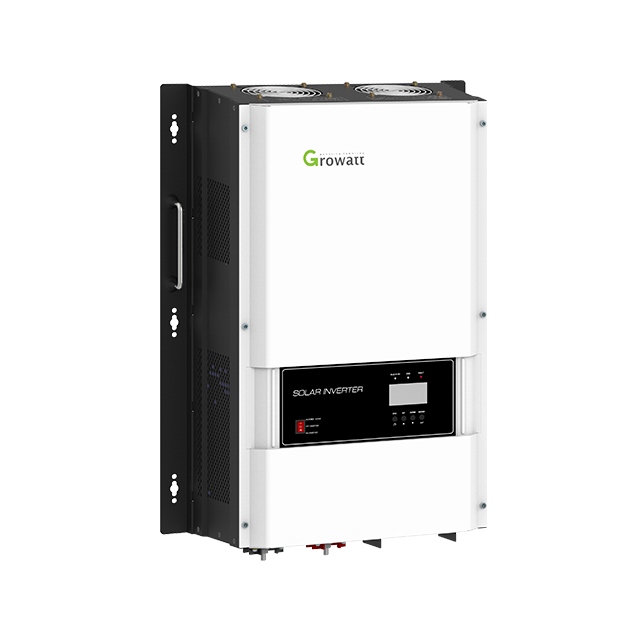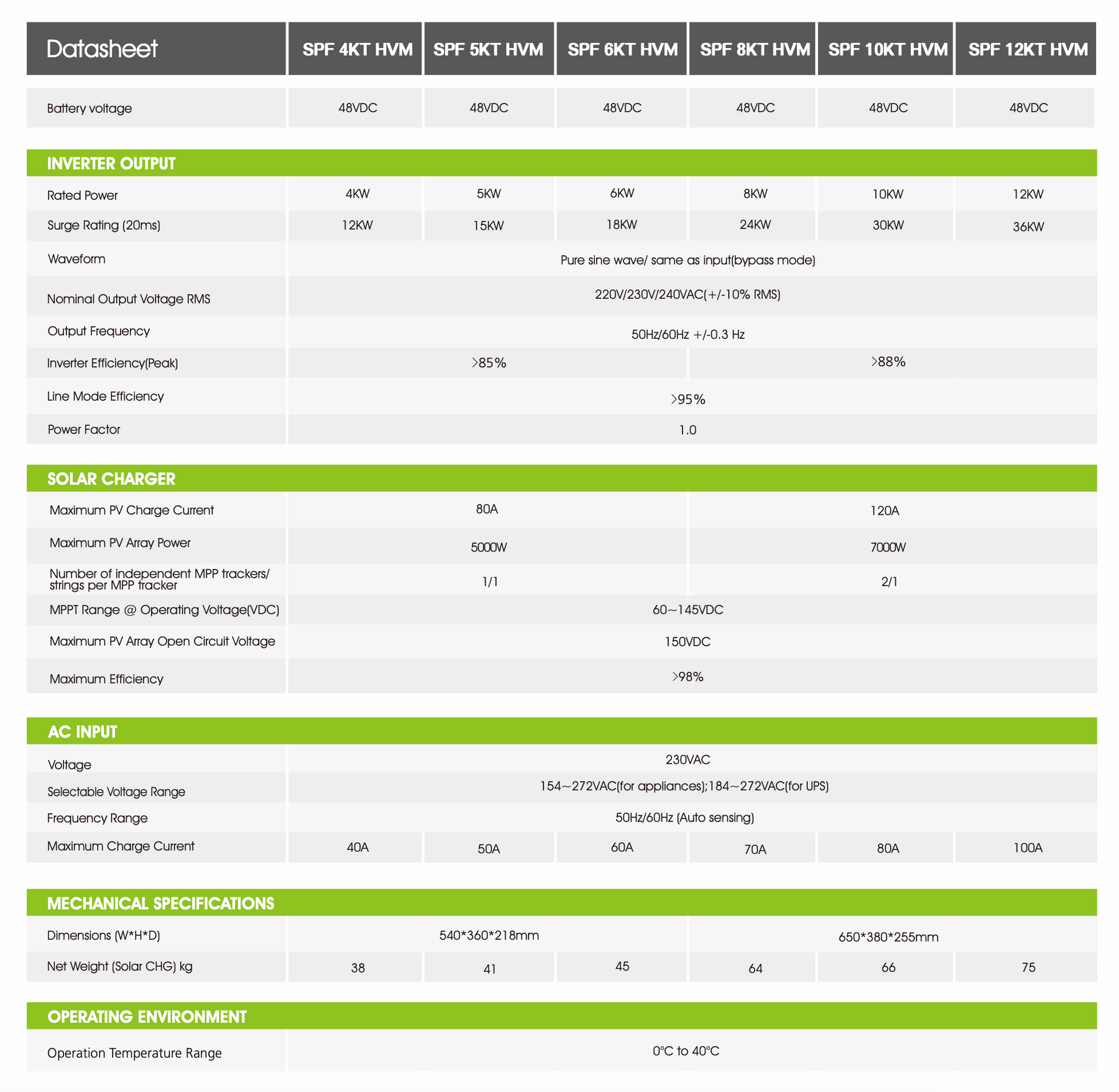 Growatt SPF 6kW HVM (48V)
The Growatt SPF 6000 HVM (Low Frequency) 48V is a multifunctional off grid hybrid solar inverter, integrated with a MPPT solar charge controller, a high frequency pure sine wave inverter, and a UPS function module in one machine, which is perfect for off grid backup power and self-consumption applications.
Because this model has a higher continuous and surge rating (6kW and 18kW) than the others due to a low frequency inverter, this can mean you use more power in less time, so you'll want to be mindful not to drain your batteries too deep. This inverter supports up to 5kW of solar panels. This inverter cannot be installed in parallel. 
*If you're looking to use 3rd party lithium batteries (not Growatt branded), please confirm with the battery supplier they are compatible with this hybrid inverter before purchase.
<ul><li>Integrated MPPT charge controller</li><li>Configurable grid or solar input priority</li><li>Optional WIFI/ GPRS remote monitoring</li><li>Overload, short circuit and deep discharge Protection</li><li>Configurable AC/ solar input priority via LCD setting</li><li>Built-in Pure Copper Low Frequency transformer</li><li>Compatible to mains voltage or generator power</li><li>Low&nbsp;Voltage PV input (ELV Ready)</li><li>Inverter OUTPUT: 6000W / Surge Rating: 18kW/ Max PV Array Power: 5000W / Maximum Solar Charge Current: 80A / AC Charge current: 60A&nbsp;</li></ul>
<ul><li>Battery Voltage 48VDC&nbsp;</li><li>Battery Type Lithium/Lead-Acid&nbsp;</li></ul><p><strong>INVERTER OUTPUT&nbsp;</strong></p><ul><li>Rated Power 5KW&nbsp;</li><li>AC Voltage Regulation 230VAC + 5% @ 50/60Hz&nbsp;</li><li>Parallel Capability NO&nbsp;</li><li>Surge Power 15KW Efficiency (Peak) &gt;88%&nbsp;</li><li>Waveform Pure Sine Wave&nbsp;</li><li>Transfer Time 10ms typical, 20ms Max&nbsp;</li></ul><p><strong>SOLAR CHARGER&nbsp;</strong></p><ul><li>Maximum PV Array Power 5000w&nbsp;</li><li>MPPT Range @ Operating Voltage 60~145VDC&nbsp;</li><li>Maximum PV array open circuit voltage 150VDC&nbsp;</li><li>Maximum Solar Charge Current 80A&nbsp;</li><li>Maximum Efficiency 98%&nbsp;</li></ul><p><strong>AC Charger&nbsp;</strong></p><ul><li>Charge Current 50A&nbsp;</li><li>AC Input Voltage 230VAC&nbsp;</li><li>Selectable Voltage Range 154~272VAC (For Home Appliances)&nbsp;</li><li>Frequency Range 50/60Hz (Auto Sensing)&nbsp;</li></ul><p><strong>Physical&nbsp;</strong></p><ul><li>Protection Degree IP20&nbsp;</li><li>Dimension (W/H/D) 360/540/218mm&nbsp;</li><li>Net Weight 41kg&nbsp;</li></ul><p><strong>Operating Environment&nbsp;</strong></p><ul><li>Humidity 5% to 95% Relative Humidity (Non-Condensing)&nbsp;</li><li>Altitude &lt;2000m&nbsp;</li><li>Operating Temperature 0 °C - 55 °C&nbsp;</li><li>Storage Temperature -15 °C - 60°C</li></ul><p><strong>Warranty</strong></p><ul><li>2 Years&nbsp;</li></ul>