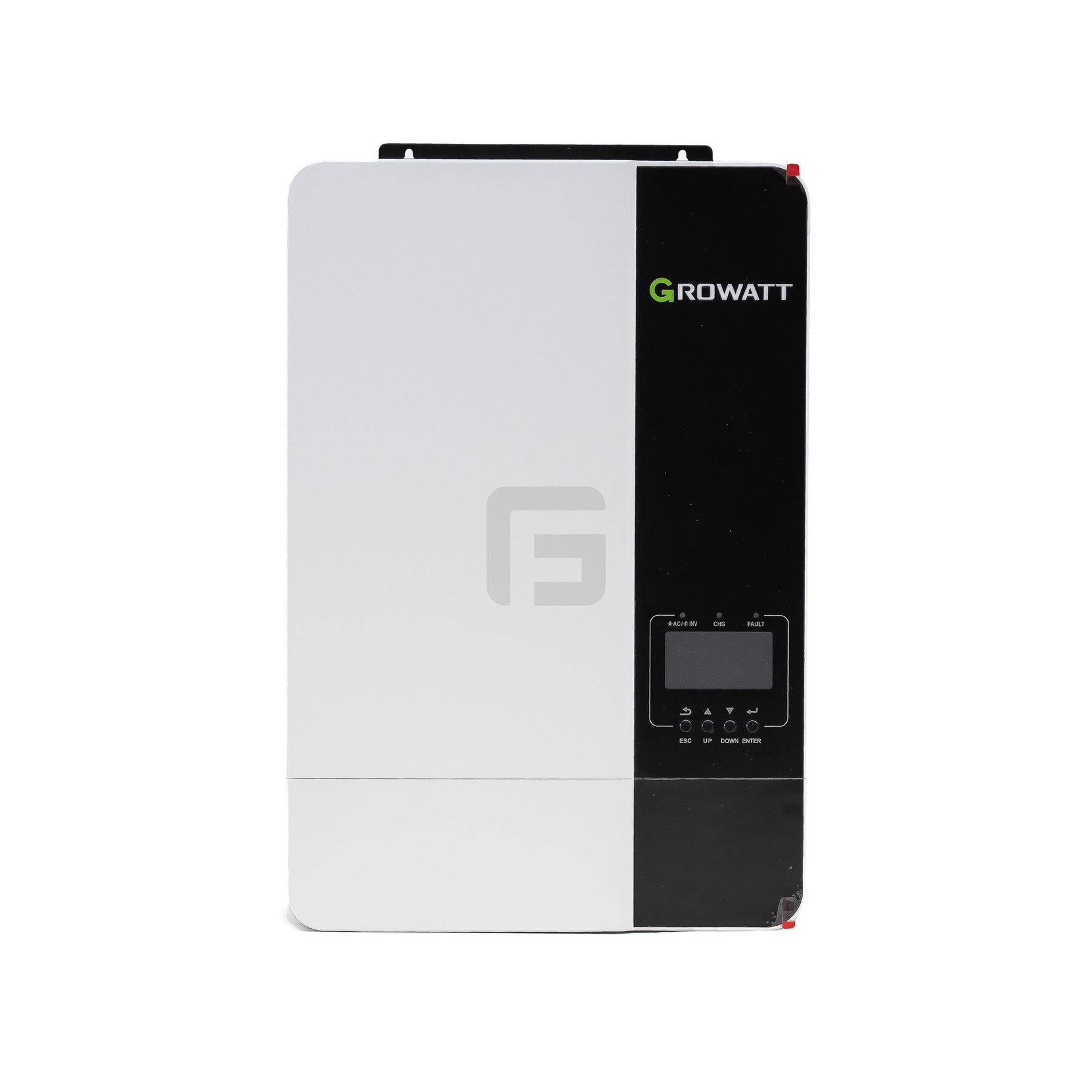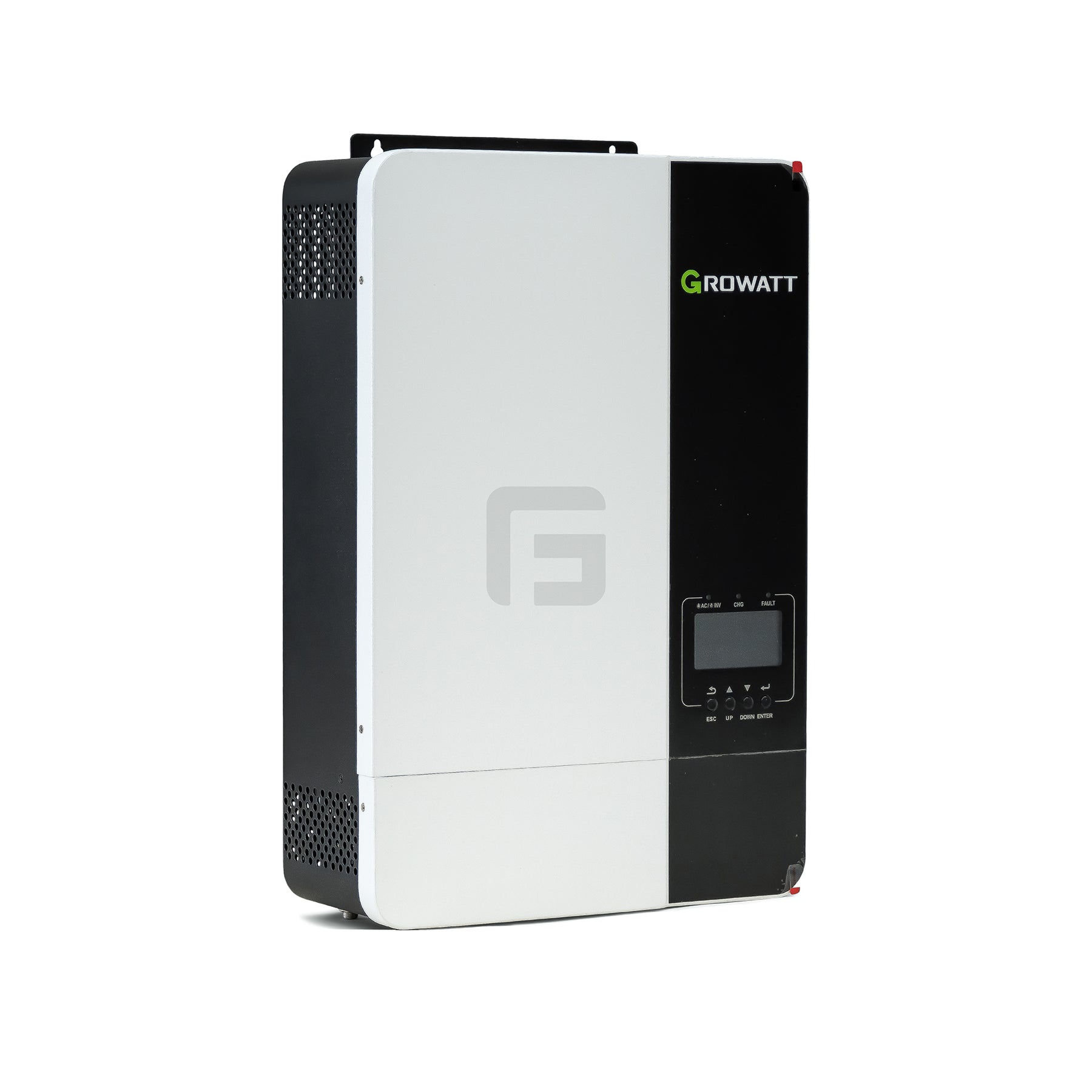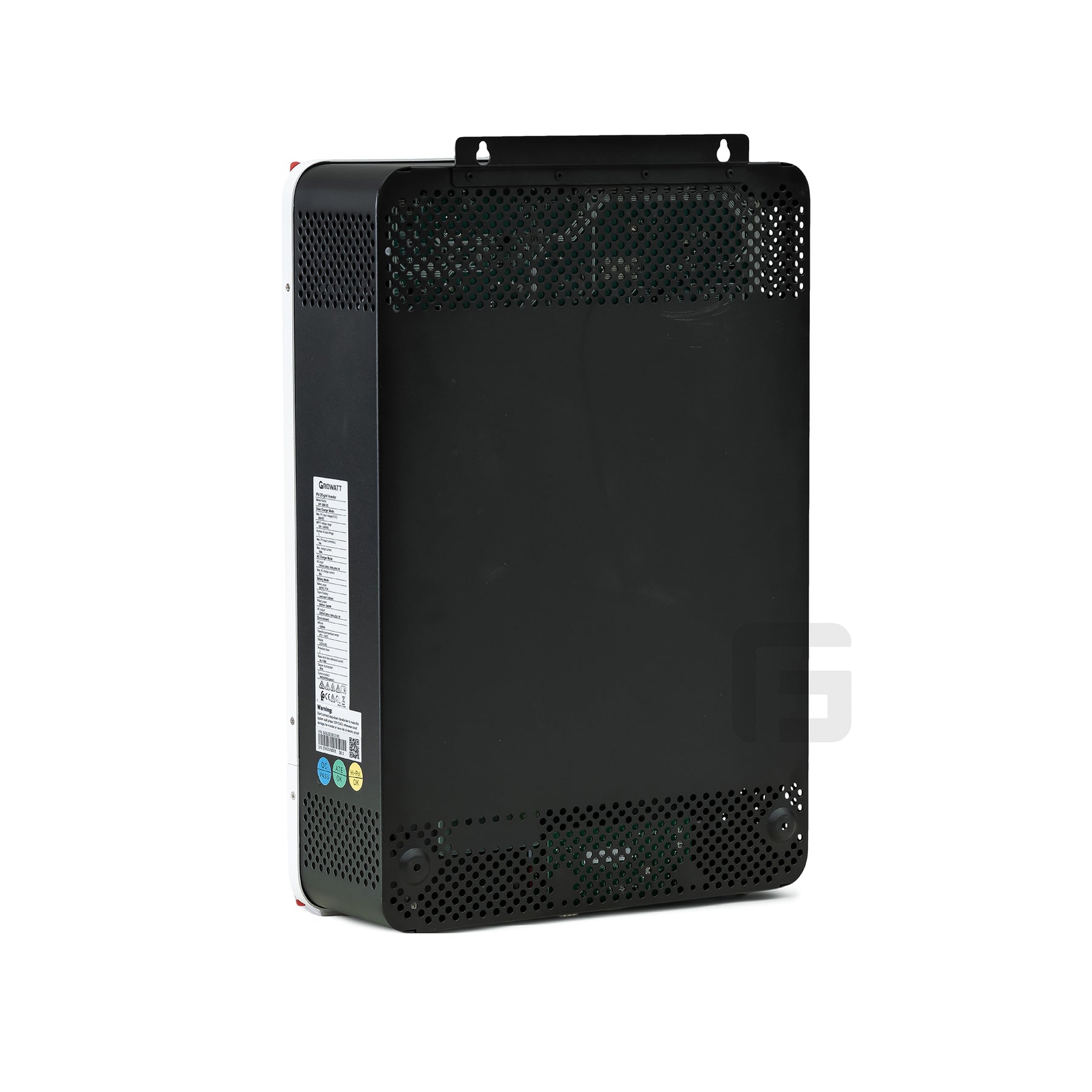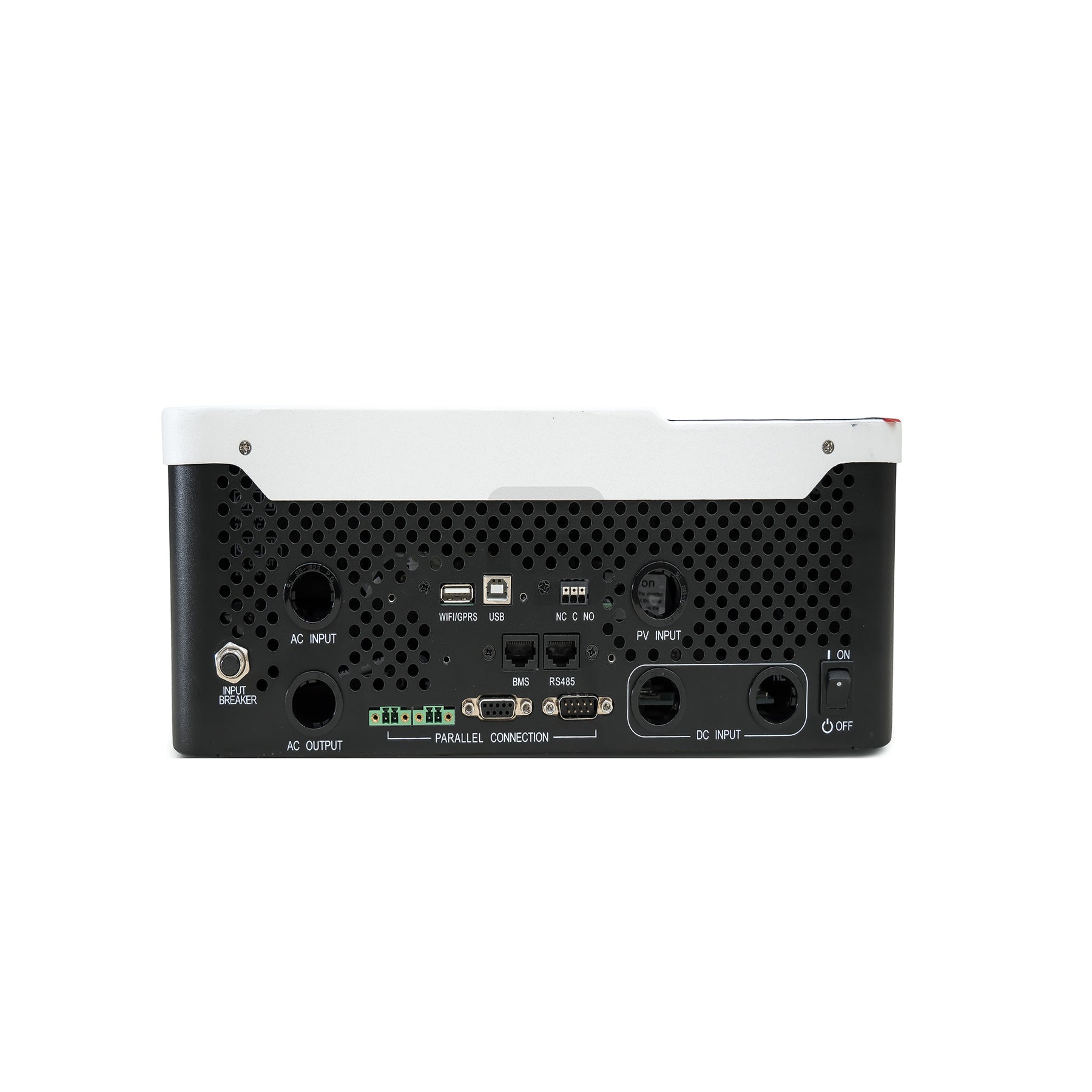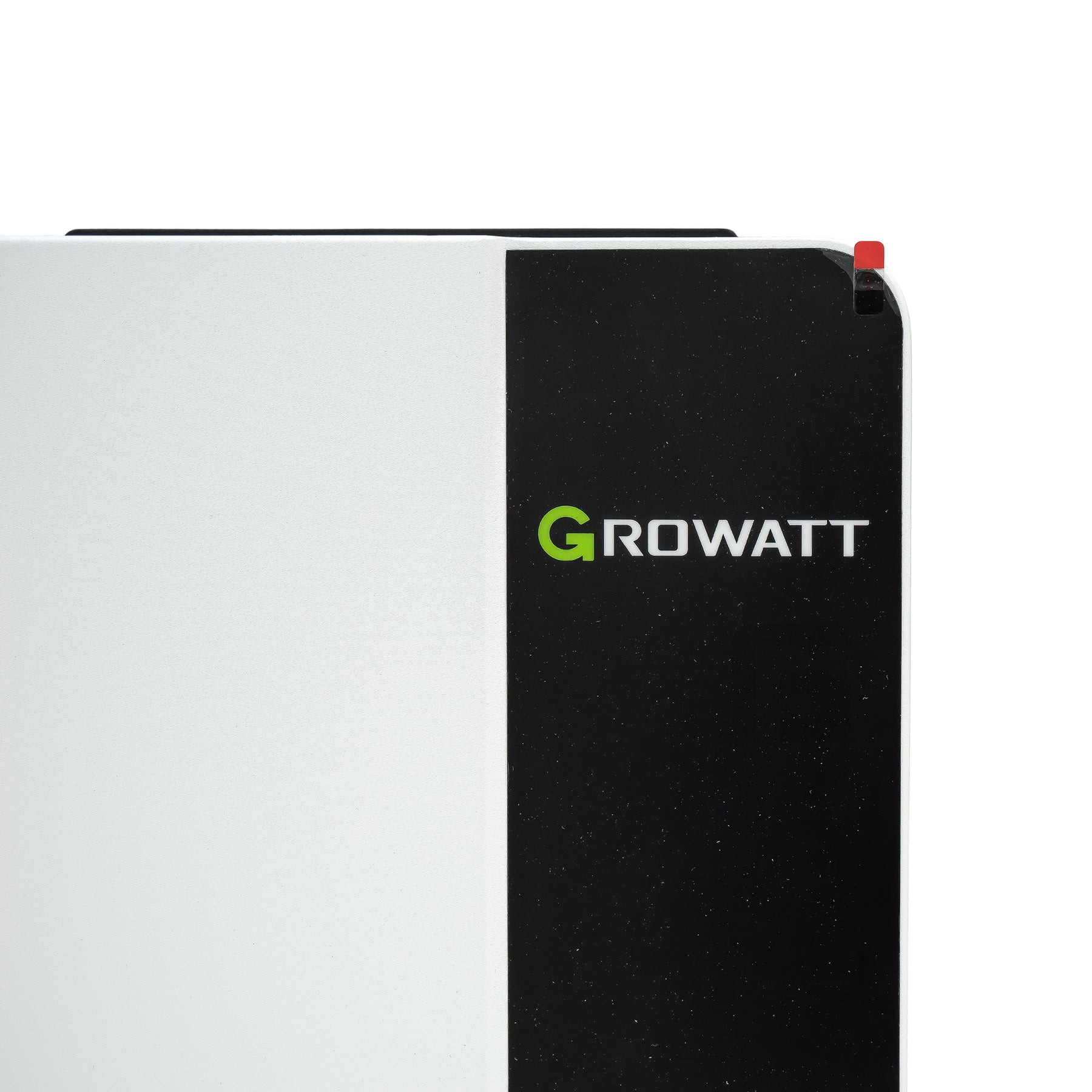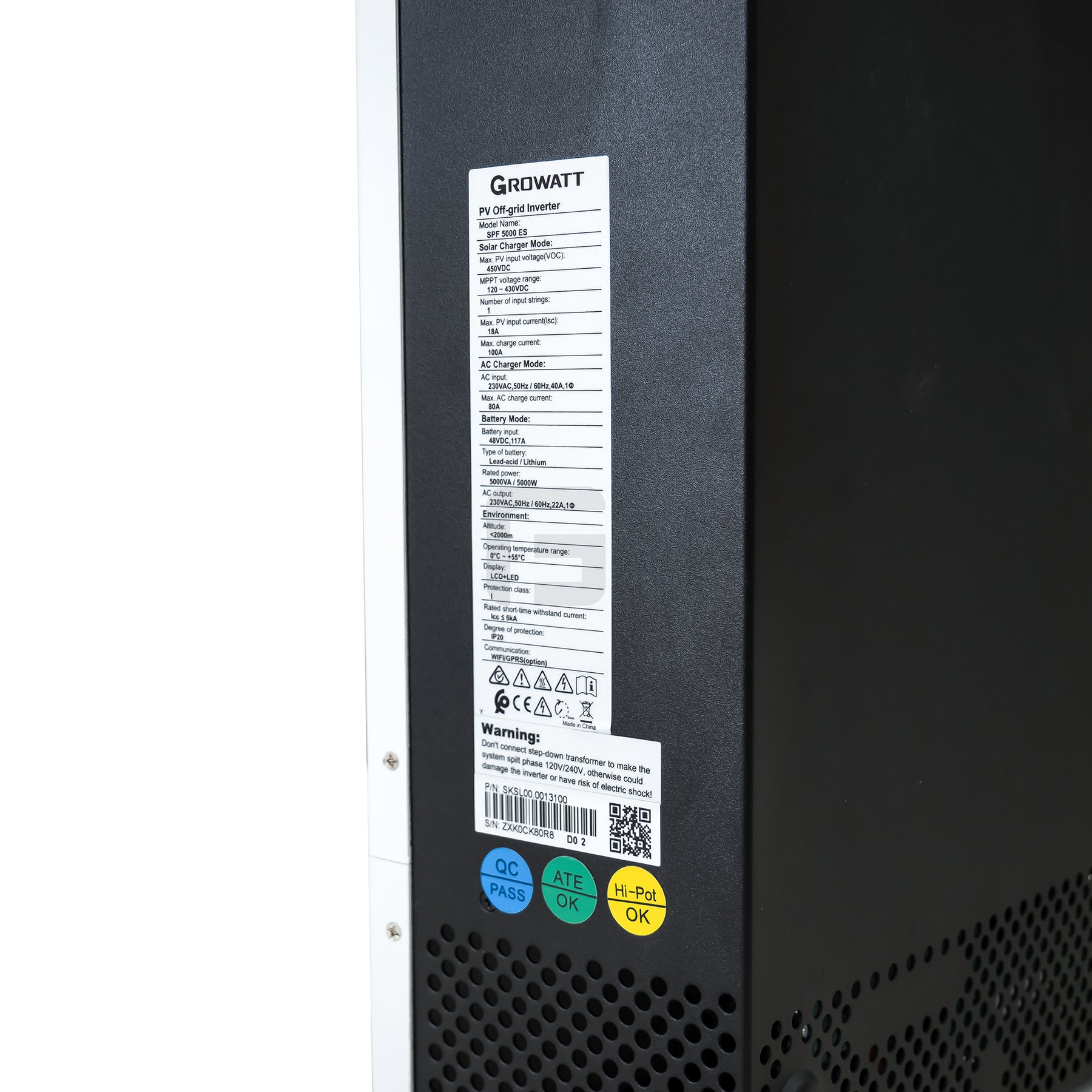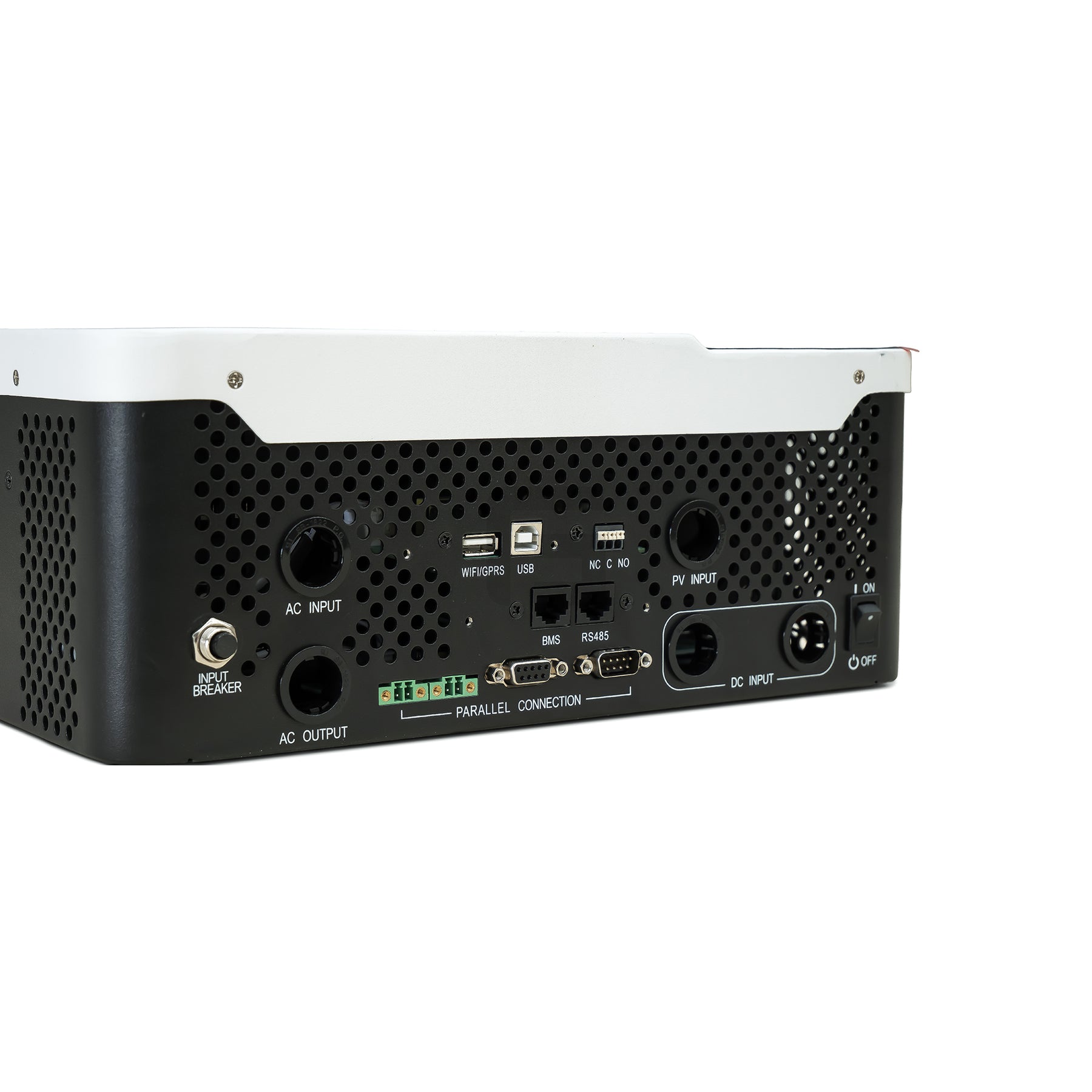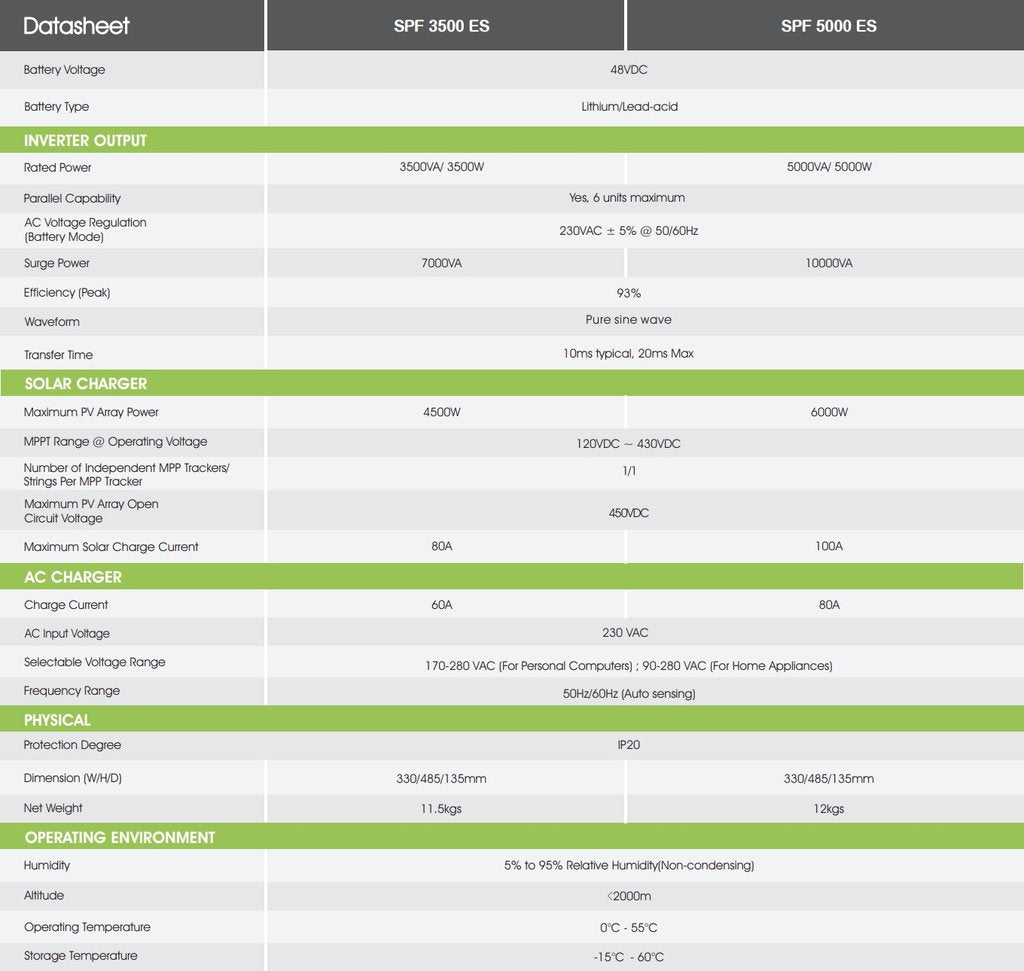 Growatt SPF 5000ES - 5kW 48V
The SPF 5000 ES Growatt Solar Inverter can work with or without batteries. This is a multifunctional off grid solar inverter, integrated with a MPPT solar charge controller, a high frequency pure sine wave inverter, and a UPS function module all in one machine, which is perfect for off grid backup power and self-consumption applications.

*If you're looking to use 3rd party lithium batteries (not Growatt branded), please confirm with the battery supplier they are compatible with this hybrid inverter before purchase.
<ul><li>Integrated MPPT charge controller</li><li>Configurable grid or solar input priority</li><li>Optional WIFI/ GPRS remote monitoring</li><li>Parallel for scalability</li><li>AC input available</li><li>High Voltage PV input (Maximum up to 450V DC)</li><li>Joint usage of PV and grid power if PV energy is insufficient&nbsp;</li><li>Flexible schedule Inverter charging and discharging time</li><li>Inverter OUTPUT: 5000W / Max PV Array Power: 6000W / Maximum Solar Charge Current: 100A / AC Charge current: 80A&nbsp;</li></ul><p style="margin-left:0px;">Installation Introduction:<a href="https://youtu.be/G2qZ0xu4P4M">&nbsp;https://youtu.be/G2qZ0xu4P4M</a></p>
<ul><li>Battery Voltage 48VDC&nbsp;</li><li>Battery Type Lithium/Lead-Acid&nbsp;</li></ul><p><strong>INVERTER OUTPUT&nbsp;</strong></p><ul><li>Rated Power 5000VA/5000W&nbsp;</li><li>AC Voltage Regulation 230VAC + 5% @ 50/60Hz&nbsp;</li><li>Parallel Capability YES, 6 Units Maximum&nbsp;</li><li>Surge Power 10000VA&nbsp;</li><li>Efficiency (Peak) 93%&nbsp;</li><li>Waveform Pure Sine Wave&nbsp;</li><li>Transfer Time 10ms typical, 20ms Max&nbsp;</li></ul><p><strong>SOLAR CHARGER&nbsp;</strong></p><ul><li>Maximum PV Array Power 6000w&nbsp;</li><li>MPPT Range @ Operating Voltage 120VDC ~ 430VDC&nbsp;</li><li>Maximum PV array open circuit voltage 450VDC&nbsp;</li><li>Maximum Solar Charge Current 100A&nbsp;</li><li>Maximum Efficiency 98%&nbsp;</li></ul><p><strong>AC Charger&nbsp;</strong></p><ul><li>Charge Current 60A&nbsp;</li><li>AC Input Voltage 230VAC&nbsp;</li><li>Selectable Voltage Range 90 - 280VAC (For Home Appliances)&nbsp;</li><li>Frequency Range 50/60Hz (Auto Sensing)&nbsp;</li></ul><p><strong>Physical&nbsp;</strong></p><ul><li>Protection Degree <a href="https://www.consumer.org.nz/articles/ip-ratings-and-water-resistance" target="_blank">IP20</a>&nbsp;</li><li>Dimension (W/H/D) 330/485/135mm&nbsp;</li><li>Net Weight 12kg&nbsp;</li></ul><p><strong>Operating Environment&nbsp;</strong></p><ul><li>Humidity 5% to 95% Relative Humidity (Non-Condensing)&nbsp;</li><li>Altitude &lt;2000m&nbsp;</li><li>Operating Temperature 0 °C - 55 °C&nbsp;</li><li>Storage Temperature -15 °C - 60°C</li></ul><p><strong>Warranty</strong></p><ul><li>2 Years&nbsp;</li></ul><p>&nbsp;</p>